Author Spotlight: Angie Stanton
We had a chance to sit down and ask Angie Stanton, author of Royally Lost (review here) and the Jamieson Brothers series (plus more) some of your most burning questions. We're so happy she took the time to chat with us! So make sure you visit her links and say thanks!
What's one book on your bookshelf we would be surprised to find?
Lucifer's Hammer by Larry Niven. I read it as a teenager, and it's the book responsible for my love of natural disaster movies.
How do you feel about fanfiction? Have you ever read any fanfiction inspired by your stories?
I think it's great, but I'm unaware of anyone writing fanfiction about my books. When I was shopping around the manuscript, Rock and a Hard Place, one agent said it read like fan fiction, and she didn't want it. At the time I had no idea what fan fiction was. I ended up self publishing that book and later signing it over to HarperTeen in a four-book deal. So, yeah! I love fan fiction!
You can check it more on the Rock and a Hard Place from us
HERE
.
umm. that's a glorious screen saver.
When you started developing your characters for Royally Lost, how did they look in your head? Do you use inspirational pictures to help you make the character perfect?
I do like using pictures for character inspiration. For Royally Lost, I only used one for the guy. He was this good looking blond guy I'd never seen before. I used his pic as my screensaver for many months.


A book you're looking forward to in 2014?
As of this minute, I'm really excited about 'Cascade' by Lisa T Bergren. I'm a huge time travel fan and have been scooping up all the YA time travel I can find.
What do you have up your sleeve for the future?
I'm currently editing the manuscript for the third book in the Jamieson Collection. If you've read Rock and a Hard Place or Snapshot, you'll be glad to know that Garrett Jamieson gets his own book in 2015. After that, I start the next book. Can't wait!
(US EITHER!!! I love the Jamieson Brothers series. Makes me feel like my imaginary relationship with Niall Horan is possible. haaaaaaaa!)
I love libraries. Seriously. One of the best parts of being traditionally published is seeing my books show up in libraries all over the country.
My first experience with a library was probably first or second grade. A friend's mom took us to the public library in my small town. They signed me up for my own library card and I was off and running. On my first visit, I checked out three books. On my second visit, I think I checked out close to twenty. I struggled to carry them all, and read every book within a week.
Later this summer, I'll be visiting my childhood library again, this time as an author talking with teens.
As an adult, I'm still a huge library fan. I could say it's because I love books so much, but it's more likely because I'm cheap. Public libraries are such an awesome free service. I get movies, TV shows on DVD, music CDs, and, of course, lots of books.
Some writers, and I'm sure publishers, want everyone to buy their book. I suppose I should be shouting that from the rooftops, too, but I'm not. If your library system carries my book, check it out! And if they don't, ask for it!
Most libraries listen to their patrons and order requested books. My library has over sixty libraries in its network. If my library doesn't have the book I want, another one probably does. The system ships the book to my local library at no charge.
So if you don't have a library card, go get one! And if you're cheap like me, you'll enjoy a world of free entertainment.
To request a copy of Royally Lost to be ordered for your library, here's the info you may need.
Thanks so much for hosting me on your blog today. I hope everyone enjoys reading Royally Lost as much as I enjoyed writing it.
Publisher: Harper Collins
Publication Date: May 6, 2014
Summary: Dragged on a family trip to Europe's ancient cities, Becca wants nothing more than to go home. Trapped with her emotionally distant father, over-eager stepmother, and a brother who only wants to hook up with European hotties, Becca is miserable. That is until she meets Nikolai, a guy as mysterious as he is handsome. And she unknowingly finds herself with a runaway prince.
Nikolai has everything a guy could ask for-he's crown prince, heir to the throne, and girls adore him. But the one thing he doesn't have...is freedom. Staging a coup, he flees his kingdom and goes undercover on his own European tour.
When Nikolai and Becca meet, it's their differences that draw them together. Sparks fly as they share a whirlwind of adventures, all the while dodging his royal guard. But Becca's family vacation ends in a matter of days. Will Nikolai and Becca be forced to say goodbye forever, will his destiny catch up to him, or will they change history forever?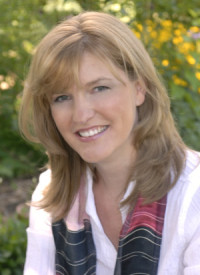 About Angie: Angie Stanton never planned on writing books; she wanted to be a Rockette. However, growing up in rural Wisconsin, with her brothers' 4-H pigs as pets, dance didn't work out. Instead she became an avid daydreamer. After years of perfecting stories in her head, she began to write them down, and the rest is history.
Angie is the author of six books including Royally Lost, Rock and a Hard Place, and Snapshot. She graduated with a Journalism degree from the University of Wisconsin, and is a proud double finalist of the National Readers Choice Awards for Love 'em or Leave 'em.
Goodreads