Book Review: THE SHADOWS BETWEEN US by Tricia Levenseller
Alessandra is tired of being overlooked, but she has a plan to gain power:
1) Woo the Shadow King.
2) Marry him.
3) Kill him and take his kingdom for herself.
No one knows the extent of the freshly crowned Shadow King's power. Some say he can command the shadows that swirl around him to do his bidding. Others say they speak to him, whispering the thoughts of his enemies. Regardless, Alessandra knows what she deserves, and she's going to do everything within her power to get it.
But Alessandra's not the only one trying to kill the king. As attempts on his life are made, she finds herself trying to keep him alive long enough for him to make her his queen—all while struggling not to lose her heart. After all, who better for a Shadow King than a cunning, villainous queen?
Add THE SHADOWS BETWEEN US to your Goodreads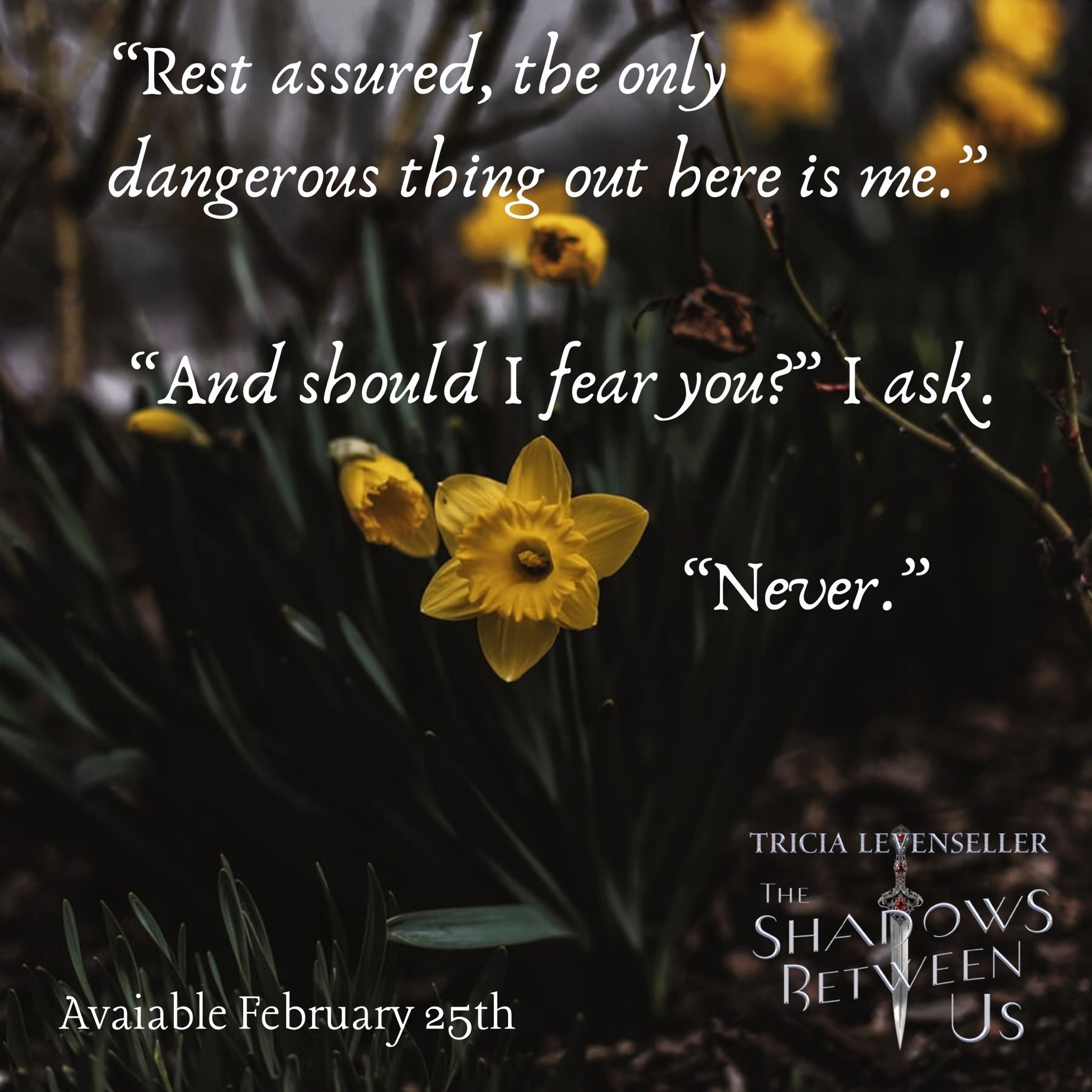 I've been a long time fan of Tricia Levenseller's books. The moment I saw the announcement for THE SHADOWS BETWEEN US, I immediately added it to my to TBR before I even knew what it was about. Later I heard the book pitched as a "Slytherin Romance" and I was all in! Haha. I'm sure I read the synopsis at some point but I had completely forgotten about it by the time I started reading the book. Tricia literally had me hooked by the end of the first page,
"They've never found the body of the first and only boy who broke my heart. And they never will. I buried Hektor Galanis in a hole so deep, even the devils of the earth couldn't reach him."
I mean.... come on! Who doesn't want to keep reading after a start like that? The story starts with a bang and really never slows down from there.
Alessandra has always felt like an afterthought. As the second daughter of a viscount who is bankrupt, she set her sights on the king. Becoming queen would change everything. Once she's at the palace nothing can (or will) stop her from reaching her goal. She enters an unexpected and unlikely alliance with the Shadow King. She uses the pretense of becoming his friend to help, when really it's an opportunity to learn his secrets. As the true nature of his shadows magic is uncovered and attempts on his life increase, she wonders if maybe she's
actually
falling for him. Which just can't be possible.... can it? The King is elusive and withdrawn, but for good reason. Alessandra befriends him and gives him a real for his money. His character and several other male characters are definitely swoon worthy (some are even cringe worthy).
I wasn't quite sure what to expect from a "Slytherin romance" when I started reading. I envisioned something dark and moody, with Frenemies, backstabbing, and illicit trysts. This book was all that and more! I loved how descriptive everything was. This book made me want to wear a pretty ballgown and eat plates full of food. Written in Tricia's typical style this book is full of sass, humor, fierce female characters, romance and enough mystery to keep you turning page after page. I would call THE SHADOWS BETWEEN a very atmospheric story. If you love delicious food, dashing men and dazzling dresses, this is the book for you!
The Shadow King
Alessandra Stathos

Catch Tricia on tour this February and March!
How do you kill a god?
As her father's chosen heir, eighteen-year-old Rasmira has trained her whole life to become a warrior and lead her village. But when her coming-of-age trial is sabotaged and she fails the test, her father banishes her to the monster-filled wilderness with an impossible quest: to win back her honour, she must kill the oppressive god who claims tribute from the villages each year or die trying.
Add DAUGHTER OF THE PIRATE KING to your Goodreads
There will be plenty of time for me to beat him soundly once I've gotten what I came for.
Sent on a mission to retrieve an ancient hidden map—the key to a legendary treasure trove—seventeen-year-old pirate captain Alosa deliberately allows herself to be captured by her enemies, giving her the perfect opportunity to search their ship.
More than a match for the ruthless pirate crew, Alosa has only one thing standing between her and the map: her captor, the unexpectedly clever and unfairly attractive first mate, Riden. But not to worry, for Alosa has a few tricks up her sleeve, and no lone pirate can stop the Daughter of the Pirate King.
Add DAUGHTER OF THE SIREN QUEEN to your Goodreads
Tricia Levenseller, author of Daughter of the Pirate King, its sequel Daughter of the Siren Queen, and Warrior of the Wild, is from a small town in Oregon, but now lives next to the Rocky Mountains in Utah with her bossy dog, Rosy. She received her degree in English language and editing, and she is thrilled that she never has to read a textbook again. When she's not writing or reading, Tricia enjoys putting together jigsaw puzzles, playing Overwatch, and watching her favorite TV shows while eating extra-buttered popcorn.
Connect with Tricia
Website
||
Twitter
||
Facebook
||
Tumblr
||
Instagram
||
Pinterest
||
Goodreads
||
Blog