Cover Reveal: WARRIOR OF THE WILD by Tricia Levenseller
We are giddy over this cover reveal for WARRIOR OF THE WILD.
This Viking-inspired standalone fantasy by Tricial Levenseller will release February 26, 2019.
It's about a girl who is banished from her village after failing her coming-of-age trial. To regain her honor, she has to survive the monster-filled wild and kill god.
An eighteen-year-old chieftain's daughter must find a way to kill her village's oppressive deity if she ever wants to return home in this Viking-inspired YA standalone fantasy from Tricia Levenseller, author of Daughter of the Pirate King.
How do you kill a god?
As her father's chosen heir, eighteen-year-old Rasmira has trained her whole life to become a warrior and lead her village. But when her coming-of-age trial is sabotaged and she fails the test, her father banishes her to the monster-filled wilderness with an impossible quest: To win back her honor, she must kill the oppressive god who claims tribute from the villages each year or die trying.
Other books by Tricia include her Daughter of the Pirate King duet: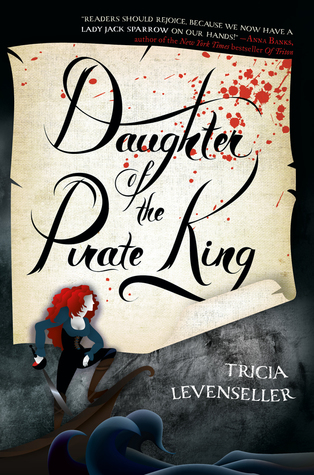 There will be plenty of time for me to beat him soundly once I've gotten what I came for.
Sent on a mission to retrieve an ancient hidden map—the key to a legendary treasure trove—seventeen-year-old pirate captain Alosa deliberately allows herself to be captured by her enemies, giving her the perfect opportunity to search their ship.
More than a match for the ruthless pirate crew, Alosa has only one thing standing between her and the map: her captor, the unexpectedly clever and unfairly attractive first mate, Riden. But not to worry, for Alosa has a few tricks up her sleeve, and no lone pirate can stop the Daughter of the Pirate King.
Tricia Levenseller is the author of the Daughter of the Pirate King duology and forthcoming standalone, Warrior of the Wild. She likes to describe her books as young adult alternate–world historical fantasies with heavy romantic subplots.
Initially from a small town in Oregon, Tricia now lives next to the Rocky Mountains with her bossy dog, Rosy. She received her degree in English Language and editing, and she is thrilled that she never has to read a textbook again. When she's not writing or reading, Tricia enjoys putting together jigsaw puzzles, playing volleyball, playing Overwatch with her siblings, and watching shows while eating extra-buttered popcorn.