Review: Swear on This Life by Renee Carlino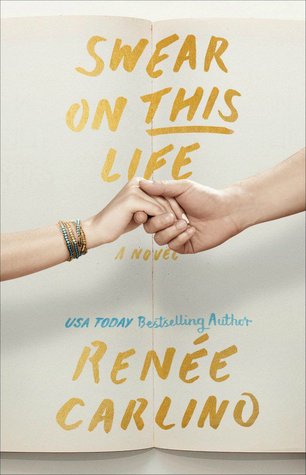 When a bestselling debut novel from mysterious author J.Colby becomes the literary event of the year, Emiline reads it reluctantly. As an adjunct writing instructor at UC San Diego with her own stalled literary career and a bumpy long-term relationship, Emiline isn't thrilled to celebrate the accomplishments of a young and gifted writer.
Yet from the very first page, Emiline is entranced by the story of Emerson and Jackson, two childhood best friends who fall in love and dream of a better life beyond the long dirt road that winds through their impoverished town in rural Ohio.
That's because the novel is patterned on Emiline's own dark and desperate childhood, which means that "J. Colby" must be Jase: the best friend and first love she hasn't seen in over a decade. Far from being flattered that he wrote the novel from her perspective, Emiline is furious that he co-opted her painful past and took some dramatic creative liberties with the ending.
The only way she can put her mind at ease is to find and confront "J. Colby," but is she prepared to learn the truth behind the fiction?
Less than 24 hours later and I have finished Swear on This Life . My butt has been planted to my couch every spare moment I had today because putting this book down for anything was unacceptable. Before We Were Strangers was one of my favorite books of 2015 and I was hesitant to believe that Renee would be able to deliver another all consuming, soul crushing, second-chance romance. Shame on me for doubting!
I loved the way Renee wove the present and past together so brilliantly, not just with mere flashbacks, but through a book within a book. We jump back and forth from Emilene's present day self to her childhood told through the story of Emerson and Jackson. During these flashbacks we're shown the struggles of two children who have grown up in poverty with neglectful and sometimes abusive parents. Through all the tragedy and hardships they are able to find a friendship and love that resonates deep within. Present day Emilene struggles with facing the past that she never let go of and the feelings of betrayal toward Jace for telling her story to the world. How dare he publish all the gritty details of her childhood and profit from them!
Swear on This Life is a unique and beautifully written second-chance love story. The story gripped me from page one and kept me hanging by a thread through the entirety of it. Renee perfectly captures heartbreak and the impact of a first love. I loved this book immensely! If you're ready for a heartfelt and emotional journey then make sure to grab yourself a copy!
Guest Review by Andie (_halfbl00dprincess), find her on Instagram!