Review: NEVERNIGHT by Jay Kristoff + Podcast + Giveaway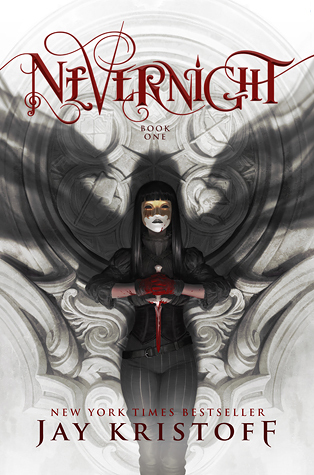 In a land where three suns almost never set, a fledgling killer joins a school of assassins, seeking vengeance against the powers who destroyed her family.

Daughter of an executed traitor, Mia Corvere is barely able to escape her father's failed rebellion with her life. Alone and friendless, she hides in a city built from the bones of a dead god, hunted by the Senate and her father's former comrades. But her gift for speaking with the shadows leads her to the door of a retired killer, and a future she never imagined.

Now, Mia is apprenticed to the deadliest flock of assassins in the entire Republic—the Red Church. If she bests her fellow students in contests of steel, poison and the subtle arts, she'll be inducted among the Blades of the Lady of Blessed Murder, and one step closer to the vengeance she desires. But a killer is loose within the Church's halls, the bloody secrets of Mia's past return to haunt her, and a plot to bring down the entire congregation is unfolding in the shadows she so loves.

Will she even survive to initiation, let alone have her revenge?
Nevernight was one of the best books I've read this year.
As you will find out in time, or as you already know if you have been following me on Instagram I'm a big fantasy fan. Put magic, medieval looking/sounding places and an assassin in it and I'm down, make it a girl and it's extra points.
"Never flinch. Never fear. And never, ever forget"
Our main girl is Mia, and we know early on she doesn't get queasy at the sight of blood.
She witnesses her father's execution and soon after that her mother and brother's abduction all at the age of 10, and even though she too was targeted she managed to escape, and once she does she makes revenge her main mission.

"The girl felt the words in her chest. In the deepest, darkest place, where the hope children breathe and adults mourn withered and fell away, floating like ashes in the wind"
The same night her mother and brother were taken away, in her terror she discovers a hidden gift, she discovers that she can talk to the shadows. She doesn't know what this means and where this shadow companion came from but it's all she's got aside from her dagger and a family heirloom her mother gave her.
Stumbling aimlessly through the streets with nowhere to go and no plan of action she meets Mercurio, a man who would in time become her teacher and her mentor, a man that will set her in the path of revenge, by preparing her to try and become a blade in The Red Church.
The Red Church is a group of the deadliest assassins in The Republic of Itreya and it is this Church that Mia wishes to be part of, and learn all she can so she can eventually kill those who killed her family.

On her way to find the church, she meets Tric, a Dweymery boy with his own revenge agenda, together they head out to find the elite group of assassins in the hopes of becoming one them.
The journey to the The Red Church while dangerous it's not the worst they'll face, when they make it there, they will have to go through trials to prove to the Ministry and the Lord of the Blades that they are worthy of becoming a blade themselves.
Loyalty and know-how will determine the 4 acolytes to become part of most feared assassins in The Republic.
Mia is still looking for answers as to who she is or what she is, as it becomes more and more apparent that not only does she have a shadow companion but she can also control the shadows.
While at The Quiet Mountain going through training she will meet someone like her who can possibly give her the answers she is so desperately seeking.
"It matters not what you are. Only that you are. In one measure, and one measure alone, you should be content. For in this, if nothing else, we are the same."
At the young age of 16 Mia has suffered unparalleled loss but has also become deadly and driven. Every acolyte is there to become a blade and they are all cunning and dangerous. Mia and her friends, of sorts, not only need to ace the trials the ministry will present them with but they also need to survive each other, even though they live together they are also opponents going for the same prize so in a den of assassins mostly everything is fair game if you are smart enough to cover your tracks.
Mia will soon find out that the trials may demand of her more than she's wiling to give. And at what point is it ok to turn into a monster just like the one you are trying to kill in the name of revenge.
I went into Nevernight sort of blind as far as the synopsis goes, I knew it was fantasy; I knew it was a girl assassin and I knew there were a couple steamy scenes. I went in with high expectations and I have to say that not only were they met but exceeded ten fold.
The writing is superb and at times almost poetic. I haven't read a book with footnotes in a really long time and in Nevernight they added just one more layer of awesome, it was like having a cheeky narrator with a cheat sheet right next to you.
There was blood, there was magic, there was murder and there was seduction, sometimes all at the same time, which made it that much more addicting.
From page one til the last sentence in the epilogue, Nevernight is an impossible read to put down.

I very highly recommend you pick it up; it is truly a magnificent piece of work.
The wait for book two promises to be an excruciating one.
Jay was kind enough to grant me some time off his really busy schedule for what was supposed to be a 10-15 minute interview and ended up being over 40 minutes lol.
We talked about everything Nevernight and then some, and Jay also told us a bit about his upcoming projects ... you can either click on the Soundcloud link or the YouTube one to listen to it. Hope you enjoy it!
Listen on YouTube





All US Pre-orders will come signed regardless of where its ordered, as far as the UK editions go there is a couple different options you can pick from, Goldsboro has red stained signed Hardcovers and Waterstones has black stained ones I'll leave the buy links below.
Jay Kristoff is the New York Times and internationally bestselling author of THE LOTUS WAR, THE ILLUMINAE FILES and THE NEVERNIGHT CHRONICLE. He is the winner of two Aurealis Awards, an ABIA, nominee for the David Gemmell Morningstar and Legend awards, named multiple times in the Kirkus and Amazon Best Teen Books list and published in over twenty-five countries, most of which he has never visited. He is as surprised about all of this as you are. He is 6'7 and has approximately 13030 days to live. He abides in Melbourne with his secret agent kung-fu assassin wife, and the world's laziest Jack Russell.
He does not believe in happy endings.
a Rafflecopter giveaway