Review: A COURT OF THORNS AND ROSES by Sarah J. Maas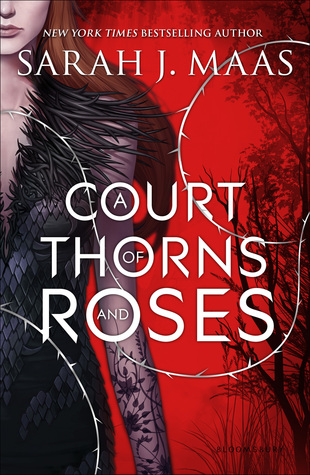 Synopsis:
When nineteen-year-old huntress Feyre kills a wolf in the woods, a beast-like creature arrives to demand retribution for it. Dragged to a treacherous magical land she only knows about from legends, Feyre discovers that her captor is not an animal, but Tamlin-one of the lethal, immortal faeries who once ruled their world.
As she dwells on his estate, her feelings for Tamlin transform from icy hostility into a fiery passion that burns through every lie and warning she's been told about the beautiful, dangerous world of the Fae. But an ancient, wicked shadow over the faerie lands is growing, and Feyre must find a way to stop it . . . or doom Tamlin-and his world-forever.
Review by Ursula U.
Let me start with saying that I'm a very big Sarah J Mass fan and I'm positively in love with the Throne of Glass series, but I think I can safely say that A Court of Thorns and Roses is now my favorite book by Sarah.
This story packs into one book everything I like about reading. A great fantasy tale, a brave and unapologetic protagonist and super hot romance.
This is not your regular YA romance, this is REALLY hot YA romance, I think I may still be blushing, a month after having finished it.
We meet 19 year old Feyre and quickly learn that she is the sole provider in her household, taking care of her disabled father and two older sisters.
One day out hunting for game Feyre encounters a wolf and kills him on sight, completely unaware of the consequences that would follow.
A few days after that, the scariest beast storms into her house looking for revenge on the one who slayed his friend. When Feyre confesses she was the one who killed the wolf he takes her with him to Prythian, the land of the Fae and the source of all the horror stories she'd been told since she was a kid. She has no alternative though, it's a life for a life, and hers must be forfeited by spending the rest of her days in Prythian.
Once in Prythian she finds out that the beast that took her is Tamlin, High Fae and Master of the Spring Court, where she will reside until her last breath.
The relationship between Tamlin and Feyre, is rocky at best, in a way Tamlin feels he has spared her life by taking her to Prythian instead of killing her and tries to be as accommodating as possible. On the other hand Feyre doesn't feel she owes him any gratitude and is openly hostile.
Feyre knows little about her hosts, but tries to find out as much as she can, at first all she knows is that they are all cursed yet she doesn't have much details on how this came about and what it means exactly. In her search for knowledge she will start to get to know both Tamlin and Lucien, though she mainly bickers back and forth with Lucien. Tamlin is a great mystery but one that she will find herself drawn to, the sexual tension and desire between them it's an entity of its own.
Feyre is nothing like Tamlin expected, hungry for knowledge, passionate, daring... a challenge and absolutely beautiful to his eyes. He won't be able to help falling for her.
"Because your human joy fascinates me - the way you experience things, in your life span, so wildly and deeply and all at once, is...entrancing. I'm drawn to it, even when I know I shouldn't be, even when I try not to be."
Feyre only knows what she's been told over the years about the Fae but now that she lives with them, she will find that they are more than she every imagined and nothing like she thought them to be. And as guarded as her heart is, it may not be guarded enough.
"I was as unburdened as a piece of dandelion fluff, and he was the wind that stirred me about the world."
Tamlin is now his protector, and protecting she will need. The blight, is slowly consuming what's left of Prythian and the minutes are counted. Tamlin and the Spring Court have enemies in high places and soon they will find that Feyre is Tamlin's weakness.
Even though he has vowed to protect her he may end up realizing that staying away from her is the best way to do it, and how the tables have turned as Feyre will put up a fight before leaving his side though futile in the end.
"I suppose it'll be easier if I'm gone," I said, looking away from him. "Who wants someone around who's so covered in thorns?"
Feyre will have to make a decision when she realizes where she really wants to be, and finds the wisdom and encouragement in the place she least expected. What awaits in her journey back is more than she ever imagined she would have to face and being non magical will put her at a major disadvantage, the conclusion of ACOTAR had me at the edge of my seat because with the Fae you never really know how things will really turn out.
Truly spellbinding read, that will have you wishing it didn't have to end. Sarah most certainly outdid herself! and for that...
"I love you," ... "thorns and all."
Thanks to Bloomsbury Publishing for the ARC!
Purchase A Court of Thorns and Roses today!
Here
If you haven't checked out Sarah's first series, Throne of Glass, I highly recommend that you do, it's one of the best fantasy series I have every read. Book 4 will be out this September 1st and you can pre-order Queen of Shadows
here
Sarah J. Maas is the
New York Times, USA Today
, and internationally bestselling author of the
Throne of Glass
series (
Queen of Shadows
, the fourth book, will release globally on September 1st, 2015) and the
A Court of Thorns and Roses
series (out starting May 5th, 2015). She currently resides with her husband and loyal canine companion in Pennsylvania. She graduated Magna Cum Laude from Hamilton College in 2008 with a degree in Creative Writing, and a minor in Religious Studies. Sarah is represented by Tamar Rydzinski of the Laura Dail Literary Agency.
Sarah's Social Media