Release Day + Book Review: RETURN TO US by Corinne Michaels
From New York Times Bestselling author Corinne Michaels comes a new second chance standalone love story.
At eighteen, I walked away from Willow Creek Valley for good.
I was young, scared, and stupid, and it cost me the love of my life—Grayson Parkerson.
Fourteen years later, a crash sends me back home to recover.
Back to where we met, fell in love, and planned a future.
The one he's now living as a single dad to his daughter.
Working at The Park Inn together gives us a chance to reconnect, and seeing him with his little girl makes me long for the days when he was mine. One look in his gorgeous blue-green eyes, and it's like I never left. One kiss, and my world is upside down. One night together, and I know without a doubt, in his arms is where I belong.
I'm not the girl I was—intimidated by his wealthy family and desperate to escape our small town. I can imagine a new life for us here.
But he's learned to guard his heart, and trust won't come easily.
How can I convince him to give first love a second chance?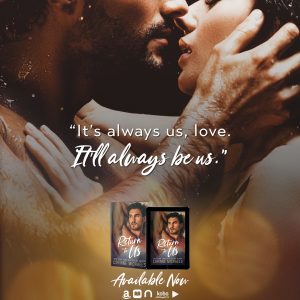 Amazon: https://amzn.to/3uaYe2q
Apple Books: http://apple.co/2ZwV5ff
Nook: https://bit.ly/3jNQZHb
Kobo: http://bit.ly/3ds1OiS
Google Play: http://bit.ly/2NCgYHd
Audible: https://amzn.to/3pCzdJL
Narrated by Andi Arndt & Sebastian York
Goodreads: http://bit.ly/2M4jkyj
Nobody knows how to write a romance like Corinne Michaels! She writes such an amazing story where she breaks your heart and puts you back together. I know every time I go to read one of her books I'm going to be gutted. But trust me... it's so worth it!

Grayson and Jessica are pure perfection. He's the one that got away. Jessica has one regret and it's leaving Grayson. But she had to get away and do what she thought was best for the both of me.

Now Grayson is raising his four year old baby girl and Jessica comes waltzing back into his life. She's the last person he wants to see after she left him but as soon as he sees her, feelings come rushing back. And it's the last thing he wants and not what Jessica needs.

But sometimes the heart can't be stopped. This book is so gorgeous! Just to simply put it. I was sucked in from the very first page and up until the very end. I can't wait to read more in this series.
Corinne is a former Navy wife and happily married to the man of her dreams. She began her writing career after spending months away from her husband while he was deployed--reading and writing were her escapes from the loneliness. Corinne now lives in Virginia with her husband and is the emotional, witty, sarcastic, and fun-loving mom of two beautiful children.
Website: http://corinnemichaels.com
Goodreads: https://bit.ly/2N1H2Gb
Amazon: http://amzn.to/1NVZmhv
Facebook: https://bit.ly/1iwLh6y
Facebook Group: https://www.facebook.com/groups/corinnemichaelsbooks/
Instagram: https://bit.ly/2L1Vzo6
Twitter: https://bit.ly/2Jcp29z
Bookbub: https://bit.ly/2yc6rss
Pinterest: https://bit.ly/2m7MkEL
Book+Main: https://bit.ly/2EibEEn
CMBOOKS TO 77948