Blog Tour + Preview: TEEN TITANS: BEAST BOY
Teen Titans: Beast Boy
Author Kami Garcia (Beautiful Creatures) and artist Gabriel Picolo, the creative duo behind the New York Times, USA Today, and Publishers Weekly bestseller Teen Titans: Raven, take you on a journey of self-discovery and acceptance, while reminding us the value of true friendship—especially when life gets wild.
Garfield Logan has spent his entire life being overlooked. Even in a small town like Eden, Georgia, the seventeen-year-old with green streaks in his hair can't find a way to stand out—and the clock is ticking. Senior year is almost over. If Gar doesn't find a way to impress the social elite at Bull Creek High School, he will never know what it's like to matter. Gar's best friends, Stella and Tank, can't understand why he cares what other people think, and they miss their funny, pizza-loving, video game-obsessed best friend.
Then Gar accepts a wild dare out of the blue. It impresses the popular kids, and his social status soars. But other things are changing, too. Gar grows six inches overnight. His voice drops, and suddenly, he's stronger and faster. He's finally getting everything he wanted, but his newfound popularity comes at a price. Gar has to work harder to impress his new friends. The dares keep getting bigger, and the stakes keep getting higher.
When Gar realizes the extent of his physical changes, he has to dig deep and face the truth about himself—and the people who truly matter—before his life spirals out of control.
Add to your Goodreads TBR or pick up your copy today!

Today we have a special preview of TEEN TITANS: BEAST BOY. We read this in the span of an afternoon back in September and liked getting to know Gar and his story. You don't have to be familiar with Teen Titans to enjoy reading these graphic novels.
Teen Titans: Raven
New York Times Bestseller, USA Today Bestseller & Publisher's Weekly Bestseller
When a tragic accident takes the life of 17-year-old Raven Roth's foster mom–and Raven's memory–she moves to New Orleans to recover and finish her senior year of high school.
Starting over isn't easy. Raven remembers everyday stuff like how to solve math equations and make pasta, but she can't remember her favorite song or who she was before the accident. And when impossible things start happening, Raven begins to think it might even be better not to know who she was before.
But as she grows closer to her new friends, her foster sister, Max, and Tommy Torres, a guy who accepts her for who she is now, Raven has to decide if she's ready to face what's buried in the past…and the darkness building inside her.
From #1 New York Times bestselling author Kami Garcia and first-time graphic novel artist Gabriel Picolo comes this riveting tale of finding the strength to face who you are and learning to trust others–and yourself.
(Illustrated by Gabriel Picolo)
Beast Boy Loves Raven
From #1 New York Times bestselling author KAMI GARCIA (Beautiful Creatures) and artist GABRIEL PICOLO, the creative duo behind the New York Times, USA Today, and Publishers Weekly bestselling graphic novel Teen Titans: Raven, comes the meet-up we have all been waiting for!
It seems like years, but it's only been a few days since Raven Roth recovered her memories, trapped her demon father, Trigon, into her amulet, and had her heart broken for the first time. But she doesn't have time to think about the past…she has to focus on finding a way to get rid of Trigon for good.
Garfield Logan still can't believe he has powers that allow him to change into different animals, but the price of knowing that his parents kept this secret hidden from him just feels too high. And what's more, his difficulty controlling these abilities could have unexpected consequences.
Both are seeking answers from the one person who seems to have them all figured out: Slade Wilson.
When their paths converge in Nashville, Raven and Gar can't help but feel a connection, despite the secrets they both try to hide. It will take a lot of trust and courage to overcome the wounds of their pasts. But can they find acceptance for the darkest part of themselves? Or maybe even love?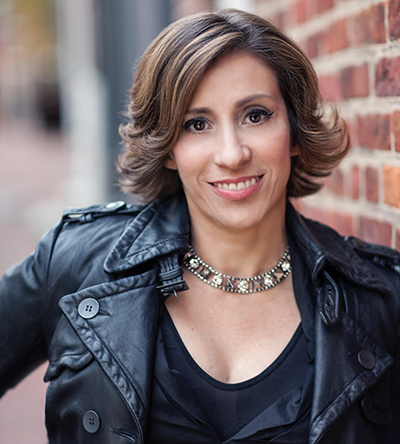 Kami Garcia is the #1 New York Times, USA Today & international bestselling coauthor of the Beautiful Creatures and Dangerous Creatures novels. BEAUTIFUL CREATURES has been published in 50 countries and translated in 39 languages, and the film Beautiful Creaturesreleased in theaters in 2013, from Warner Brothers. Kami's solo series, The Legion, includes the instant New York Times bestseller UNBREAKABLE, and the sequel UNMARKED, both of which were nominated for Bram Stoker Awards. Her other works include THE X-FILES ORIGINS: AGENT OF CHAOS and the YA contemporary novels THE LOVELY RECKLESS and the forthcoming BROKEN BEAUTIFUL HEARTS (February 2018).
Kami was a teacher for seventeen years before co-authoring her first novel on a dare from seven of her students. If she isn't busy watching Supernatural, Kami can teach you how to escape from a pair of handcuffs or bake a Coca-Cola cake. She lives in Maryland with her family, and their dogs Spike and Oz (named after characters from Buffy the Vampire Slayer). Visit Kami at www.KamiGarcia.com.
Twitter || Instagram || Facebook || Pinterest || YouTube || Tumblr