Waiting on Wednesday + Preorder Info: THE QUEEN'S ASSASSIN by Melissa de la Cruz
Perfect for fans of Sarah J. Maas and Red Queen, this is the first novel in a sweeping YA fantasy-romance duet about a deadly assassin, his mysterious apprentice, and the country they are sworn to protect from #1 NYT bestselling author Melissa de la Cruz.
Caledon Holt is the Kingdom of Renovia's deadliest weapon. No one alive can best him in brawn or brains, which is why he's the Guild's most dangerous member and the Queen's one and only assassin. He's also bound to the Queen by an impossible vow--to find the missing Deian Scrolls, the fount of all magical history and knowledge, stolen years ago by a nefarious sect called the Aphrasians.
Shadow has been training all her life to follow in the footsteps of her mother and aunts--to become skilled enough to join the ranks of the Guild. Though magic has been forbidden since the Aphrasian uprising, Shadow has been learning to control her powers in secret, hoping that one day she'll become an assassin as feared and revered as Caledon Holt.
When a surprise attack brings Shadow and Cal together, they're forced to team up as assassin and apprentice to hunt down a new sinister threat to Renovia. But as Cal and Shadow grow closer, they'll uncover a shocking web of lies and secrets that may destroy everything they hold dear. With war on the horizon and true love at risk, they'll stop at nothing to protect each other and their kingdom in this stunning first novel in the Queen's Secret series.
If you pre-order make sure to submit your receipt and choose between a crown or a dagger enamel pin! How exciting is that? Click the image below to access the form.
Melissa will be going on tour with Marie Lu and Astrid Scholte (we love all 3 authors!) on the PenguinTeen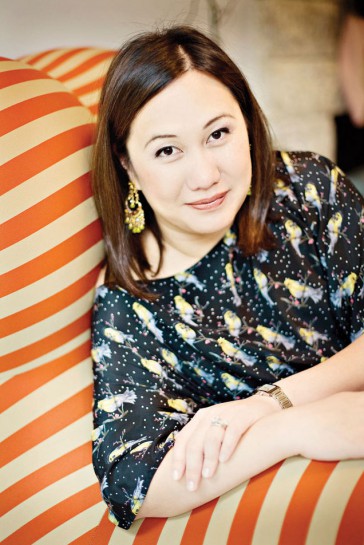 Melissa de la Cruz is the #1
New York Times
, #1
Publisher's Weekly
and #1
IndieBound
bestselling author of many critically acclaimed and award-winning novels for readers of all ages. Her more than thirty books have also topped the
USA Today
,
Wall Street Journal
and
Los Angeles Times
bestseller lists and have been published in over twenty countries.
The Isle of the Lost
, the prequel to the Disney Channel Original Movie
The Descendants
, has spent more than fifty weeks on the
New York Times
bestseller list, fifteen at #1, and has over a million copies in print.
The Descendants
starring Kristen Chenoweth and Dove Cameron is the #1 cable TV movie of 2015, and #5 of all time, and its soundtrack is the #1 bestselling album on iTunes.
The Isle of the Lost
's sequel,
Return to the Isle of the Lost,
is also a #1
New York Times
bestseller and spent sixteen weeks on the New York Times List. The third
Isle of the Lost
book will be published in May 2017.
De la Cruz is the author of the
Blue Bloods
series (with three million copies in print), among many others. Her first series for adults launched with
Witches of East End
, which
People
magazine called a "bubbling cauldron of mystery and romance." The bestseller was followed by
Serpent's Kiss
and
Winds of Salem
. Lifetime Television aired a two-season drama series based on
Witches of East End,
starring Julia Ormond, Jenna Dewan-Tatum, Rachel Boston and Mädchen Amick. De la Cruz's young adult spin-off of the series,
Summer on East End
has also been optioned for television.
Her recent books include
Something in Between,
a YA contemporary novel inspired by de la Cruz's own immigrant experience coming from the Philippines which launched the Seventeen imprint at Harlequin Teen, as well as
Alex and Eliza
, a historical novel about the romance between Alexander Hamilton and Elizabeth Schuyler, forthcoming from Penguin Teen in April 2017.
Angel Falls
, a television movie she wrote for the Hallmark Channel, will premiere this December as part of the network's Countdown to Christmas and will star Rachel Boston from
Witches of East End
.
Pride, Prejudice and Mistletoe
, her latest novel for adults will be published by St. Martin's and Melissa has also written the script for the television movie.
A former fashion and beauty editor, Melissa has written for
The New York Times, Marie Claire, Harper's Bazaar, Glamour, Cosmopolitan, Allure, The San Francisco Chronicle, McSweeney's, Teen Vogue, CosmoGirl!
and
Seventeen
. She has also appeared as an expert on fashion, trends and fame for CNN, E! and FoxNews.
In addition to her literary work, Melissa is the co-founder of
YALLWEST
, and the co-director of
YALLFEST
, two of the largest teen book festivals in the country. She is also on the Advisory Board of Facing History, which reaches five million school children nationwide with a curriculum devoted to teaching empathy and social justice.
She grew up in Manila and moved to San Francisco with her family, where she graduated high school salutatorian from The Convent of the Sacred Heart. At Columbia University, she majored in art history and English.
Melissa de la Cruz lives in West Hollywood, California with her husband and daughter.