Review by Brie: CALL IT WHAT YOU WANT by Brigid Kemmerer
When his dad is caught embezzling funds from half the town, Rob goes from popular lacrosse player to social pariah. Even worse, his father's failed suicide attempt leaves Rob and his mother responsible for his care.
Everyone thinks of Maegan as a typical overachiever, but she has a secret of her own after the pressure got to her last year. And when her sister comes home from college pregnant, keeping it from her parents might be more than she can handle.
When Rob and Maegan are paired together for a calculus project, they're both reluctant to let anyone through the walls they've built. But when Maegan learns of Rob's plan to fix the damage caused by his father, it could ruin more than their fragile new friendship...


This captivating, heartfelt novel asks the question: Is it okay to do something wrong for the right reasons?
I read my first book by Brigid Kemmerer earlier this year when A CURSE SO DARK AND LONELY released. I loved the mix of fantasy and contemporary in that novel, actually I just loved it in general. Since Brigid's other books are contemporary, I decided to to give her next release a try. I feel like Brigid just gets the human condition. She portrays so many large issues in this book and does it in such a profound and thought provoking way.

CALL IT WHAT YOU WANT is told from dual points of view. Maegan and Rob have both been ostracized by their peers for various reasons. When they are paired on a Math project, each of them get a glimpse of the others suffering and form and unlikely alliance. The book shows that things aren't always as they appear. That what you thinksomeones life is like, is rarely true. This is a lesson everyone can use a reminder of. I feel like this is an especially meaningful and powerful read for teens.

Like I mentioned above, I would caution readers because there a lot of "triggering" topics in this book. If you're interested in knowing what those are, I'll list and hide them below. I will definitely be recommending this book to friends with teens in high school. I'm looking forward to reading more of her "back-list" contemporary books (while I anxiously await the sequel to ACSDAL).
*** TRIGGER WARNINGS BELOW ***
[Attempted suicide, abortion discussions, cheating, professor student relationship, infidelity, pregnancy, bullying, and theft]
Add on Goodreads
Don't forget to submit your preorder information: bit.ly/callitpreorder
Everyone will receive a signed bookplate and bonus content from LETTERS TO THE LOST & MORE THAN WE CAN TELL Amazon US || Amazon UK || Book Depository || Barnes & Noble ||
Also available from Brigid


Juliet Young always writes letters to her mother, a world-traveling photojournalist. Even after her mother's death, she leaves letters at her grave. It's the only way Juliet can cope.
Declan Murphy isn't the sort of guy you want to cross. In the midst of his court-ordered community service at the local cemetery, he's trying to escape the demons of his past.
When Declan reads a haunting letter left beside a grave, he can't resist writing back. Soon, he's opening up to a perfect stranger, and their connection is immediate. But neither Declan nor Juliet knows that they're not actually strangers. When life at school interferes with their secret life of letters, sparks will fly as Juliet and Declan discover truths that might tear them apart.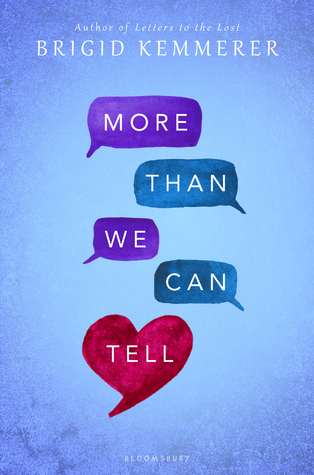 *While this book exists in the same universe as Letters to the Lost, it is a standalone title.*

Rev Fletcher is battling the demons of his past. But with loving adoptive parents by his side, he's managed to keep them at bay...until he gets a letter from his abusive father and the trauma of his childhood comes hurtling back.

Emma Blue spends her time perfecting the computer game she built from scratch, rather than facing her parents' crumbling marriage. She can solve any problem with the right code, but when an online troll's harassment escalates, she's truly afraid.

When Rev and Emma meet, they both long to lift the burden of their secrets and bond instantly over their shared turmoil. But when their situations turn dangerous, their trust in each other will be tested in ways they never expected. This must-read story will once again have readers falling for Brigid Kemmerer's emotional storytelling.
You can also grab the first book in Brigid's YA Fantasy debut duet!!! I am obsessed with this book and dying to get my hands on the sequel. You can read my review of A CURSE SO DARK AND LONELY here.
Fall in love, break the curse.

It once seemed so easy to Prince Rhen, the heir to Emberfall. Cursed by a powerful enchantress to repeat the autumn of his eighteenth year over and over, he knew he could be saved if a girl fell for him. But that was before he learned that at the end of each autumn, he would turn into a vicious beast hell-bent on destruction. That was before he destroyed his castle, his family, and every last shred of hope.

Nothing has ever been easy for Harper Lacy. With her father long gone, her mother dying, and her brother barely holding their family together while constantly underestimating her because of her cerebral palsy, she learned to be tough enough to survive. But when she tries to save someone else on the streets of Washington, DC, she's instead somehow sucked into Rhen's cursed world.

Break the curse, save the kingdom.

A prince? A monster? A curse? Harper doesn't know where she is or what to believe. But as she spends time with Rhen in this enchanted land, she begins to understand what's at stake. And as Rhen realizes Harper is not just another girl to charm, his hope comes flooding back. But powerful forces are standing against Emberfall . . . and it will take more than a broken curse to save Harper, Rhen, and his people from utter ruin.
Brigid Kemmerer is the
New York Times
bestselling author of dark and alluring Young Adult novels like
A Curse So Dark and Lonely,
More Than We Can Tell,
and
Letters to the Lost
(Bloomsbury), as well as paranormal YA stories like The Elemental Series and
Thicker Than Water
(Kensington). A full time writer, Brigid lives in the Baltimore area with her husband, her boys, her dog, and her cat. When she's not writing or being a mommy, you can usually find her with her hands wrapped around a barbell.