Book Review: SORCERY OF THORNS by Margaret Rogerson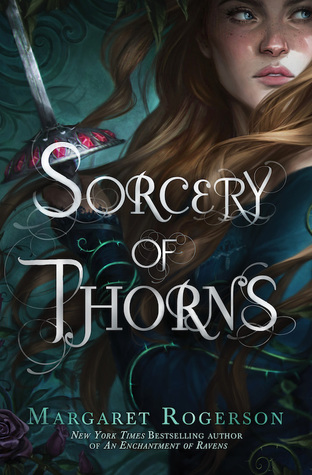 All sorcerers are evil. Elisabeth has known that as long as she has known anything. Raised as a foundling in one of Austermeer's Great Libraries, Elisabeth has grown up among the tools of sorcery—magical grimoires that whisper on shelves and rattle beneath iron chains. If provoked, they transform into grotesque monsters of ink and leather. She hopes to become a warden, charged with protecting the kingdom from their power.
Then an act of sabotage releases the library's most dangerous grimoire. Elisabeth's desperate intervention implicates her in the crime, and she is torn from her home to face justice in the capital. With no one to turn to but her sworn enemy, the sorcerer Nathaniel Thorn, and his mysterious demonic servant, she finds herself entangled in a centuries-old conspiracy. Not only could the Great Libraries go up in flames, but the world along with them.
As her alliance with Nathaniel grows stronger, Elisabeth starts to question everything she's been taught—about sorcerers, about the libraries she loves, even about herself. For Elisabeth has a power she has never guessed, and a future she could never have imagined.
I read Margaret's
first book
last year, when I saw the synopsis (and cover... duh) for her second book SORCERY OF THORNS and she had my attention immediately. Great libraries, magical grimoires, sorcerers and monsters. Are you intrigued yet?
I feel like every book nerd will be enchanted by this story. The libraries will make you green with envy, there are magical books, a sassy and swoon worthy sorcerer, and a bad-A leading lady. Oh and did I forget to mention a murder? Watch this story unfold when Elisabeth is wrongfully accused and forms an unlikely partnership with Nathaniel Thorn. Nathaniel and Elisabeth must work to save the libraries, but what they uncover could bring their world to ruin.
I honestly loved reading SORCERY OF THORNS, the plot and the characters kept me want to stay up late into the night getting lost in the pages of this book. The settings were beautifully described and truly mesmerizing. I am a sucker for a sassy character and Nathaniel was perfection. Elisabeth doesn't put up with his s**t, but he finds a way into her heart anyways!
If you're on the fence about reading this book, I highly recommend it. Seriously, it's a book and fantasy lovers dream. Such a unique storyline, I can't remember the last time I've felt this spellbound (Hehe, see what I did there? Magic and books?). SORCERY OF THORNS is available now on all platforms, you don't want to miss it.
You can also grab Margaret's first novel AN ENCHANTMENT OF RAVENS now.
A skilled painter must stand up to the ancient power of the faerie courts—even as she falls in love with a faerie prince—in this gorgeous debut novel.
Isobel is a prodigy portrait artist with a dangerous set of clients: the sinister fair folk, immortal creatures who cannot bake bread, weave cloth, or put a pen to paper without crumbling to dust. They crave human Craft with a terrible thirst, and Isobel's paintings are highly prized. But when she receives her first royal patron—Rook, the autumn prince—she makes a terrible mistake. She paints mortal sorrow in his eyes—a weakness that could cost him his life.
Furious and devastated, Rook spirits her away to the autumnlands to stand trial for her crime. Waylaid by the Wild Hunt's ghostly hounds, the tainted influence of the Alder King, and hideous monsters risen from barrow mounds, Isobel and Rook depend on one another for survival. Their alliance blossoms into trust, then love—and that love violates the fair folks' ruthless laws. Now both of their lives are forfeit, unless Isobel can use her skill as an artist to fight the fairy courts. Because secretly, her Craft represents a threat the fair folk have never faced in all the millennia of their unchanging lives: for the first time, her portraits have the power to make them feel.
Prior to writing her first book, Margaret Rogerson worked a variety of jobs ranging from canoe livery counter girl to graphic designer. She has a bachelor's degree in cultural anthropology from Miami University. When not reading or writing she enjoys sketching, gaming, making pudding, and watching more documentaries than is socially acceptable (according to some). She lives near Cincinnati, Ohio, beside a garden full of hummingbirds and roses.
An Enchantment of Ravens
is her debut novel.
(Bio found on the Official Simon & Schuster site)