Book Review: KING OF FOOLS by Amanda Foody
Indulge your vices in the City of Sin, where a sinister street war is brewing and fame is the deadliest killer of them all...
On the quest to find her missing mother, prim and proper Enne Salta became reluctant allies with Levi Glaisyer, the city's most famous con man. Saving his life in the Shadow Game forced Enne to assume the identity of Seance, a mysterious underworld figure. Now, with the Chancellor of the Republic dead and bounties on both their heads, she and Levi must play a dangerous game of crime and politics…with the very fate of New Reynes at stake.
Thirsting for his freedom and the chance to build an empire, Levi enters an unlikely partnership with Vianca Augustine's estranged son. Meanwhile, Enne remains trapped by the mafia donna's binding oath, playing the roles of both darling lady and cunning street lord, unsure which side of herself reflects the truth.
As Enne and Levi walk a path of unimaginable wealth and opportunity, new relationships and deadly secrets could quickly lead them into ruin. And when unforeseen players enter the game, they must each make an impossible choice: To sacrifice everything they've earned in order to survive...
Or die as legends.
Add KING OF FOOLS to your Goodreads!
Amazon || Amazon UK || Barnes & Noble || IndieBound || Indigo || Waterstones || Book Depository
ACE OF SHADES
was one of my top reads in 2018. Amanda Foody created such a diverse and unique world (you can read my review
here
). It was unlike anything I had read before. The cliffhanger wasn't terrible. It definitely left questions unanswered and ended in a way that let me satisfied, but excited for more of the story. KING OF FOOLS picks up pretty much right after the ending of ACE OF SHADES. I have to say that I loved being back in New Reynes. I had somehow forgotten how much I loved these characters and how fun the setting and plot was.
There was a lot more politics involved in this part of the trilogy than I expected. In KING OF FOOLS we get the added POV of Jac and I felt like it gave so much depth to the storyline. I hear rumors that the final book has even more POV's! On top of getting a look inside another characters head, we get to spend more time getting to know some of my favorite characters (*ahem* Lola) and to meet some new ones too.
I felt like the first book was really a story about self discovery and facing your fears. The sequel (to me) felt more like carving out your own destiny and not letting others influence who you want to be. I savored the journey and by the end Foody left my heart shattered and I don't know how I will pick up all the pieces and move on with my life. Again, the cliffhanger isn't anything terrible, but I will definitely be thinking about what she could possibly have planned for the final piece of the story.
Welcome to the City of Sin, where casino families reign, gangs infest the streets…and secrets hide in every shadow.
Enne Salta was raised as a proper young lady, and no lady would willingly visit New Reynes, the so-called City of Sin. But when her mother goes missing, Enne must leave her finishing school—and her reputation—behind to follow her mother's trail to the city where no one survives uncorrupted.
Frightened and alone, Enne has only one lead: the name Levi Glaisyer. Unfortunately, Levi is
not
the gentleman she expected—he's a street lord and a con man. Levi is also only one payment away from cleaning up a rapidly unraveling investment scam, so he doesn't have time to investigate a woman leading a dangerous double life. Enne's offer of compensation, however, could be the solution to all his problems.
Their search for clues leads them through glamorous casinos, illicit cabarets and into the clutches of a ruthless Mafia donna. As Enne unearths an impossible secret about her past, Levi's enemies catch up to them, ensnaring him in a vicious execution game where the players always lose. To save him, Enne will need to surrender herself to the city…
And she'll need to play.
Add ACE OF SHADES to your Goodreads!
Are you a book collector? The UK covers are slightly different and I love them!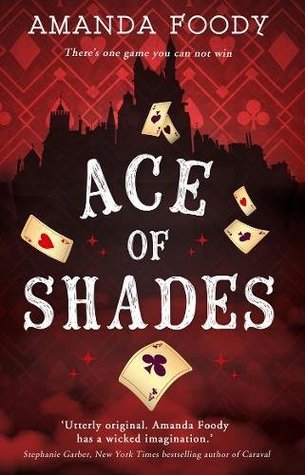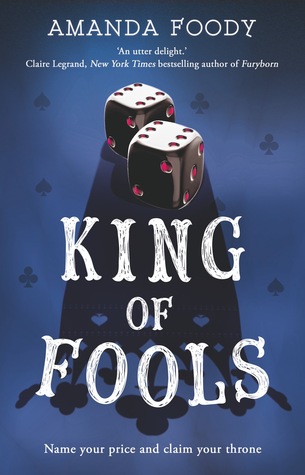 Amanda Foody has always considered imagination to be our best attempt at magic. After spending her childhood longing to attend Hogwarts, she now loves to write about immersive settings and characters grappling with insurmountable destinies. She holds a Masters in Accountancy from Villanova University, and a Bachelors of Arts in English Literature from the College of William and Mary. Currently, she works as a tax accountant in Philadelphia, PA, surrounded by her many siblings and many books.