Release Day + Giveaway: PIECES OF US by A.L. Jackson
A second chance stand-alone romance in A.L. Jackson's Confessions of the Heart Series.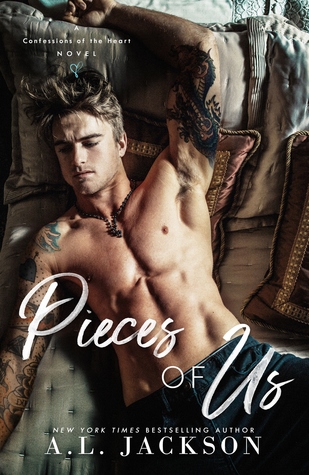 SERIES:

A Confessions of the Heart Stand-Alone Novel
RELEASE DATE:

April 22nd, 2019
"I absolutely adored all of the sweet emotion, angst, and just all of the feelings "Pieces of Us" inspired. The characters and their growth had me hooked from the first page. Read it. You will not regret it."
~NYT & USA Today Bestselling Author Kylie Scott
My loves!! PIECES OF US IS LIVE!!! I am so freaking excited, I can hardly stand it! This book is EVERYTHING!
All my affection, and all my dreams.
What I needed to remember was he'd stolen my good judgment and my virginity, too.
When he broke up with me, I ran across the country and swore I'd never return to Broadshire Rim.
But here I am, thirteen years later.
Sexier than sin and more tempting than ever.
A detective on the Charleston force, he lives on the outside of safety, devoted to protecting the people of his city.
But with the way he's looking at me now? I'm pretty sure what needs protecting is my heart.
Can we mend the pieces of us? Or will he leave my heart shattered forever . . .
My daddy warned me never to fall for a boy like Jace Jacobs...

The second I saw him walk through the door, I knew he was trouble.
A gorgeous rebel with a bad attitude and a huge chip on his shoulder.
My heart warned me. I didn't listen. I saw something protective and good beneath the fierce, tough exterior.
I fell hard and fast.
He promised we'd be together forever, and then left me with a broken heart.
Now, ten years later, Jace Jacobs is standing at my door.
Sexier than he's ever been.
Provocative and commanding.
Successful and powerful.
The man I always knew he would become.
But I promised myself I'd never lose my heart to him again.
Even time couldn't dim our chemistry. One glance of his intense eyes, and I become weak. One brush of his hand, and he brings me to my knees.
Little do I know, Jace holds the key to everything I've lost and everything that threatens my future.
Now he will either save me, or he will break me all over again . . .

More of You – a Confessions of the Heart second-chance, stand-alone romance
Add to your Goodreads
A stand-alone forbidden romance...
People call me callous. Arrogant. Ruthless.
I call myself tenacious.
One of the most powerful attorneys in Charleston, I don't let anyone or anything stand in my way.
Until a chance encounter changes everything.
One glance.
One touch.
One night.
It only leaves me wanting more.
But Grace is off limits. Most people would even say forbidden.
Everyone knows an attorney can't sleep with his client.
Too bad I already did.
And even with the threat of losing everything, I don't know if I can stop myself from having her again...
Add to your Goodreads
Don't miss the awesome giveaway for the Pieces of Us release! It's the first two books from the Confessions of the Heart Series + Kindle Fire + Polaroid Camera + All the Goods!
Ahhh I can't wait for you to experience this story! I'm so insanely proud of it! I can't wait to hear what you think!
A.L. Jackson is the New York Times & USA Today Bestselling author of contemporary romance. She writes emotional, sexy, heart-filled stories about boys who usually like to be a little bit bad.
Her bestselling series include THE REGRET SERIES, CLOSER TO YOU, BLEEDING STARS, and FIGHT FOR ME novels. Grab A.L. Jackson's latest novel, PIECES OF US, the third stand-alone novel in her brand-new CONFESSIONS OF THE HEART series.
If she's not writing, you can find her hanging out by the pool with her family, sipping cocktails with her friends, or of course with her nose buried in a book.
Be sure not to miss new releases and sales from A.L. Jackson - Sign up to receive her newsletter
http://smarturl.it/NewsFromALJackson
or text "aljackson" to 33222 to receive short but sweet updates on all the important news.