Blog Tour: Review by Brie - WILDCARD by Marie Lu
Note: WILDCARD is the sequel to WARCROSS, this synopsis contains spoilers. Synopsis and trailer for WARCROSS are below.
Emika Chen barely made it out of the Warcross Championships alive. Now that she knows the truth behind Hideo's new NeuroLink algorithm, she can no longer trust the one person she's always looked up to, who she once thought was on her side.
Determined to put a stop to Hideo's grim plans, Emika and the Phoenix Riders band together, only to find a new threat lurking on the neon-lit streets of Tokyo. Someone's put a bounty on Emika's head, and her sole chance for survival lies with Zero and the Blackcoats, his ruthless crew. But Emika soon learns that Zero isn't all that he seems--and his protection comes at a price.
Caught in a web of betrayal, with the future of free will at risk, just how far will Emika go to take down the man she loves?
Add WILDCARD to your Goodreads
Emika Chen, a bounty hunter on the verge of losing everything, is suddenly given the opportunity of a lifetime when she "accidentally" glitches into the opening ceremony of the biggest virtual reality game,
WARCROSS
. Suddenly she finds herself in a dangerous game. She uncovers a mysterious plot that puts humanity itself at risk.
"When I first accepted Hideo's bounty job, the biggest risk I thought I was taking was getting my identity stolen, or maybe having to face off against a hacker inside Warcross. Now, somehow, I've become tangled in a web of secrets and lies, and the wrong step in any direction could cost me my life"
WILDCARD picks up shortly after WARCROSS ends. I found that the second book started off a lot slower than the first. One of the things I loved most about Warcross were the virtual reality action scenes during the games. Although those were few and far between in Wildcard, we get a lot of one of my other favorite types of thrills;
suspense
. Where Warcross had a lot of "oh shit" moments, Wildcard has more of the "oh snap" moments. In the beginning, this did make it a little harder for me to get into the book, I ended up really enjoying it end the end.
"That's the difference between the real and the virtual. Reality is where you can lose the ones you love. Reality is the place where you can feel the cracks in your heart."
I love when a book can take me by surprise and this one does that in spades! Everything I thought I had figured out was wrong. This is one of the reasons I love Marie Lu as an author, I never know what to expect. The last quarter of this book had me looking around like "did that just happen?! What's going to happen now??" I felt like it was a worthy conclusion to one of my favorite reads last year. I can't wait to see what Marie dreams up for us next. If you've held off from reading this one because virtual reality/video games are not your thing, I encourage you to give it a try. I didn't know if I would like it either. BUT I LOVED THIS DUET!!!
"...sometimes, the need to protect the world from being controlled translates to seizing control for yourself."
For the millions who log in every day, Warcross isn't just a game—it's a way of life.
The obsession started ten years ago and its fan base now spans the globe, some eager to escape from reality and others hoping to make a profit. Struggling to make ends meet, teenage hacker Emika Chen works as a bounty hunter, tracking down Warcross players who bet on the game illegally. But the bounty hunting world is a competitive one, and survival has not been easy. To make some quick cash, Emika takes a risk and hacks into the opening game of the international Warcross Championships—only to accidentally glitch herself into the action and become an overnight sensation.
Convinced she's going to be arrested, Emika is shocked when instead she gets a call from the game's creator, the elusive young billionaire Hideo Tanaka, with an irresistible offer. He needs a spy on the inside of this year's tournament in order to uncover a security problem . . . and he wants Emika for the job. With no time to lose, Emika's whisked off to Tokyo and thrust into a world of fame and fortune that she's only dreamed of. But soon her investigation uncovers a sinister plot, with major consequences for the entire Warcross empire.
In this sci-fi thriller, #1
New York Times
bestselling author Marie Lu conjures an immersive, exhilarating world where choosing who to trust may be the biggest gamble of all.
Add WARCROSS to your Goodreads
If you're new to Marie's work here are her first two series: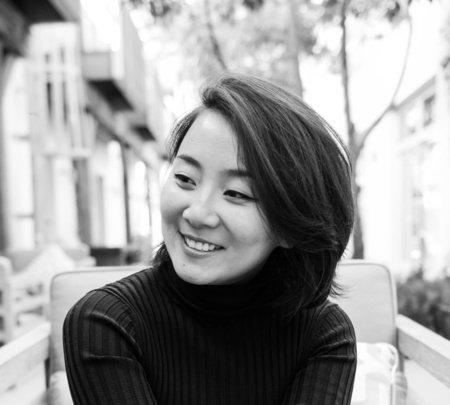 Marie Lu is the author of the #1 New York Times bestselling series The Young Elites, as well as the blockbuster bestselling Legend series.
She graduated from the University of Southern California and jumped into the video game industry as an artist. Now a full-time writer, she spends her spare time reading, drawing, playing games, and getting stuck in traffic. She lives in Los Angeles, California, with one husband, one Chihuahua mix, and two Pembroke Welsh corgis.
Tumblr
||
Facebook
||
Twitter
||
Instagram
||
Pintrest
||
Penguin
||
Amazon