Release Day: LEGENDARY by Stephanie Garber
Happy release day to, LEGENDARY, the much anticipated sequel to Caraval by Stephanie Garber. You can see our review of Caraval here. We thought it wasn't possible to love a book more than CARAVAL, but we were wrong!
Title: Legendary
Author: Stephanie Garber
Release Date: May 29, 2018
Publisher: Flatiron Books
Stephanie Garber's limitless imagination takes flight once more in the colorful, mesmerizing, and immersive sequel to the bestselling breakout debut Caraval
A heart to protect. A debt to repay. A game to win.
After being swept up in the magical world of Caraval, Donatella Dragna has finally escaped her father and saved her sister Scarlett from a disastrous arranged marriage. The girls should be celebrating, but Tella isn't yet free. She made a desperate bargain with a mysterious criminal, and what Tella owes him no one has ever been able to deliver: Caraval Master Legend's true name.
The only chance of uncovering Legend's identity is to win Caraval, so Tella throws herself into the legendary competition once more—and into the path of the murderous heir to the throne, a doomed love story, and a web of secrets…including her sister's. Caraval has always demanded bravery, cunning, and sacrifice. But now the game is asking for more. If Tella can't fulfill her bargain and deliver Legend's name, she'll lose everything she cares about—maybe even her life. But if she wins, Legend and Caraval will be destroyed forever.
Welcome, welcome to Caraval...the games have only just begun.
Add Legendary to you Goodreads TBR!
Just like with Caraval, the first printing of the UK LEGENDARY will have 4 secret foil covers under the dust jacket! You can pre-order signed UK copies from Waterstones or unsigned copies from Book Depository.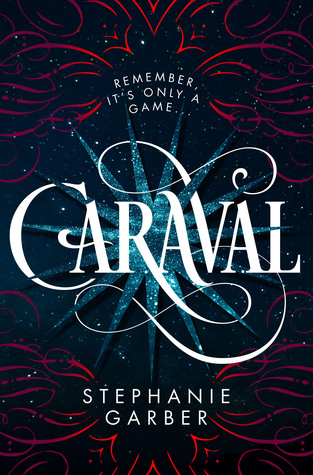 Remember, it's only a game…
Scarlett Dragna has never left the tiny island where she and her sister, Tella, live with their powerful, and cruel, father. Now Scarlett's father has arranged a marriage for her, and Scarlett thinks her dreams of seeing Caraval—the faraway, once-a-year performance where the audience participates in the show—are over.
But this year, Scarlett's long-dreamt-of invitation finally arrives. With the help of a mysterious sailor, Tella whisks Scarlett away to the show. Only, as soon as they arrive, Tella is kidnapped by Caraval's mastermind organizer, Legend. It turns out that this season's Caraval revolves around Tella, and whoever finds her first is the winner.
Scarlett has been told that everything that happens during Caraval is only an elaborate performance. Nevertheless she becomes enmeshed in a game of love, heartbreak, and magic. And whether Caraval is real or not, Scarlett must find Tella before the five nights of the game are over or a dangerous domino effect of consequences will be set off, and her beloved sister will disappear forever.
Welcome, welcome to Caraval…beware of getting swept too far away.
My favorite place in the world is Disneyland because it's the one place on earth where I feel as if the fantastical stories I love to write about could actually come to life.
When I'm not writing, I teach creative writing at a private college in Northern California, where I've been known to turn assignments into games and take students on field trips that involve book signings. I'm also a blogger on PUB(LISHING) CRAWL. But I probably spend most of my time on Twitter where I tend to overuse exclamation points and emojis.
To help pay my bills during college, grad school, and the breaks in between, I worked as a barista, a waitress, a bartender, a customer service representative for an energy consulting company, and as a sales girl at Bath and Bodyworks. I also spent years working with youth; I worked as a counselor at space themed summer camp, volunteered at a school for deaf children in Mexico, and I took multiple groups of college students overseas to spend their winter vacations serving at youth hostels in Amsterdam. But out of everything that I've done, writing young adult novels has been my favorite job.
My debut YA fantasy novel, Caraval will be published January 2017 (Flatiron Books/Macmillan—US and Hodder & Stoughton—UK). Caraval

has sold in twenty-five foriegn territories and the movie rights were pre-empted by Twentieth Century Fox.
Be sure to check out her
Pinterest
to see all the amazing images that inspire her!