Cover Reveal: IMPRISON THE SKY by A.C. Gaughen
We are obsessed with this cover reveal from A.C. Gaughan!!! REIGN THE EARTH was one of our favorite reads this year and cannot wait for IMPRISON THE SKY to release in January 2019.
Stolen from her family as a child, Aspasia has clawed her way up the ranks of Cyrus's black market empire to captain her own trading vessel--and she risks it all every time she uses her powerful magic to free as many women, children, and Elementae from slavery as she can.
But Cyrus is close to uncovering her secrets--not only that Aspasia is an air Elementa with the ability to sail her ship through the sky, but that she is also searching for her lost family. And if Aspasia can't find her younger siblings before Cyrus does, she will never be able to break free.
Armed with her loyal crew full of Elementae and a new recruit who controls an intriguing power, Aspasia finds herself in the center of a brewing war that spans every inch of the ocean, and her power alone may not be enough to save her friends, family, and freedom.
ADD TO GOODREADS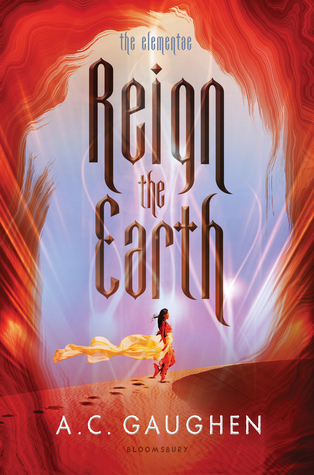 Shalia is a proud daughter of the desert, but after years of devastating war with the adjoining kingdom, her people are desperate for peace. Willing to trade her freedom to ensure the safety of her family, Shalia becomes Queen of the Bonelands.
But she soon learns that her husband, Calix, is motivated only by his desire to exterminate the Elementae—mystical people who can control earth, wind, air, and fire. Even more unsettling are Shalia's feelings for her husband's brother, which unleash a power over the earth she never knew she possessed—a power that could get her killed. As rumors of a rebellion against Calix spread, Shalia must choose between the last chance for peace and her own future as an Elementae.
This intense, richly drawn high-fantasy by the author of
Scarlet
will hold readers spellbound.
ADD TO GOODREADS
A.C. Gaughen
is also the author of
Scarlet, Lady Thief
, and
Lion Heart
. She serves on the board of directors for the non-profit Boston GLOW to make sure young women have the support they need to become powerful leaders in their communities. She has a Masters in Creative Writing from St. Andrews University in Scotland and a Masters in Education from Harvard University. Visit her online at
www.acgaughen.com
and @acgaughen.
TUMBLR | TWITTER | FACEBOOK | GOODREADS | INSTAGRAM