Release Day: SKY IN THE DEEP by Adrienne Young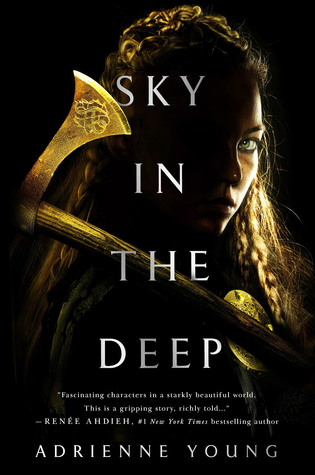 Raised to be a warrior, seventeen-year-old Eelyn fights alongside her Aska clansmen in an ancient rivalry against the Riki clan. Her life is brutal but simple: fight and survive. Until the day she sees the impossible on the battlefield—her brother, fighting with the enemy—the brother she watched die five years ago.
Faced with her brother's betrayal, she must survive the winter in the mountains with the Riki, in a village where every neighbor is an enemy, every battle scar possibly one she delivered. But when the Riki village is raided by a ruthless clan thought to be a legend, Eelyn is even more desperate to get back to her beloved family.
She is given no choice but to trust Fiske, her brother's friend, who sees her as a threat. They must do the impossible: unite the clans to fight together, or risk being slaughtered one by one. Driven by a love for her clan and her growing love for Fiske, Eelyn must confront her own definition of loyalty and family while daring to put her faith in the people she's spent her life hating.
The very first time I was told I was a writer was by my third-grade teacher, Mrs. Zweig. But the first time I believed her was in fourth grade when I wrote a poem of retribution to the class bully for tearing the pages out of my math book. Even the principal paid me a compliment before giving me detention.
My great loves in life are food, history, art, and yoga. My obsession with the past has influenced many of my stories, and I am continually inspired by it. I love learning, and will buy any art history book I can get my hands on. Most of all, I am enraptured by the human spirit and our connection with each other and everything around us.
Writing is a sanctuary for a solitary soul—an opportunity to leave this life and tell the story of someone else's. Fact or fiction. I have found myself transfixed, creating heroes and building the walls of a fantasy world with the keys of my laptop. The sun goes down, the coffee is poured, the sweater is donned, and I am gone. I am following the breadcrumbs of something waiting to be chiselled out of the storm of words swirling around in my head.
In the past, I have had the opportunity to share my writing as a regular contributor to
Darling Magazine
. I also served as a writer, assistant editor, and member of the creative team for
The Pink Room
, an Emmy Award-winning documentary investigating human trafficking in Cambodia.
These days I am fully immersed in the imaginary worlds of my books.