Waiting on Wednesday: THE REBELS OF GOLD by Elise Kova
Just one week to go until you can have this beauty in your hands!!!
We are SO excited about the upcoming release of THE REBELS OF GOLD by Elise Kova. We are in the middle of reading book 2, THE DRAGONS OF NOVA. This series is completely addictive and descriptions are beautifully descriptive. Keep your eyes open for our full reviews of each book.
A new rebellion rises from the still-smoldering remnants of the five guilds of Loom to stand against Dragon tyranny. Meanwhile, on Nova, those same Dragons fight amongst themselves, as age-old power struggles shift the political landscape in fateful and unexpected ways. Unlikely leaders vie for the opportunity to shape a new world order from the perfect clockwork designs of one temperamental engineer.
This is the final installment of USA Today bestselling author Elise Kova's Loom Saga, THE REBELS OF GOLD will reveal the fate of Loom's brilliantly contrasting world and its beloved inhabitants.
Add to your Goodreads now!
THE REBELS OF GOLD from:

| AMAZON | BARNES & NOBLE | BOOK DEPOSITORY |
| BOOKS A MILLION |
(more pre-order locations to come)
For those who preorder THE REBELS OF GOLD, they can get exclusive swag for submitting their preorder. More info here: http://elisekova.com/pre-order/
Currently pre-orders have unlocked:
- Loom Guild bookmark (random 1 of 5)
- Signed bookplate
- Character trading card (random 1 of 3)
To be unlocked:
-Guild symbol temporary tattoo (random 1 of 5)
-Guild symbol vinyl decal (random 1 of 5)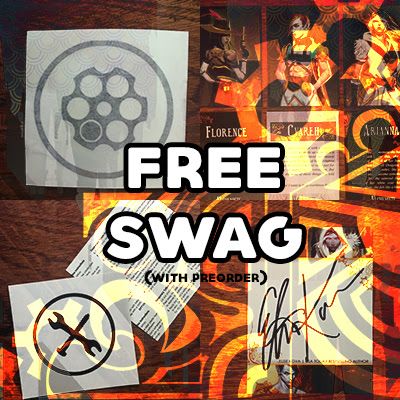 | AMAZON | BARNES & NOBLE |
| IBOOKS | KOBO | GOOGLE PLAY |
Ari lost everything she once loved when the Five Guilds' resistance fell to the Dragon King. Now, she uses her unparalleled gift for clockwork machinery in tandem with notoriously unscrupulous morals to contribute to a thriving underground organ market. There isn't a place on Loom that is secure from the engineer turned thief, and her magical talents are sold to the highest bidder as long as the job defies their Dragon oppressors.
Cvareh would do anything to see his sister usurp the Dragon King and sit on the throne. His family's house has endured the shame of being the lowest rung in the Dragons' society for far too long. The Alchemist Guild, down on Loom, may just hold the key to putting his kin in power, if Cvareh can get to them before the Dragon King's assassins.
When Ari stumbles upon a wounded Cvareh, she sees an opportunity to slaughter an enemy and make a profit off his corpse. But the Dragon sees an opportunity to navigate Loom with the best person to get him where he wants to go.
He offers her the one thing Ari can't refuse: A wish of her greatest desire, if she brings him to the Alchemists of Loom.
The Second book in the Loom Saga.
Cvareh returns home to his sky world of Nova with the genius crafter Arianna as his temperamental guest. The mercurial inventor possesses all the Xin family needs to turn the tides of a centuries-old power struggle, but the secrets she harbors must be earned with trust — hard to come by for Ari, especially when it comes to Dragons. On Nova, Ari finds herself closer to exacting vengeance against the traitor who killed everything — and everyone – she once loved. But before Ari can complete her campaign of revenge, the Crimson Court exposes her shadowed past and reveals something even more dangerous sparking between her and Cvareh.

While Nova is embroiled in blood sport and political games, the rebels on Loom prepare for an all-out assault on their Dragon oppressors. Florence unexpectedly finds herself at the forefront of change, as her unique blend of skills — and quick-shooting accuracy — makes her a force to be reckoned with. For the future of her world, she vows vengeance against the Dragons.

Before the rebellion can rise, though, the Guilds must fall.
Elise Kova has always had a profound love of fantastical worlds. Somehow, she managed to focus on the real world long enough to graduate with a Master's in Business Administration before crawling back under her favorite writing blanket to conceptualize her next magic system. She currently lives in St. Petersburg, Florida, and when she is not writing can be found playing video games, watching anime, or talking with readers on social media. She is the USA Today bestselling author of the Air Awakens Series as well as the upcoming Loom Saga (Keymaster, 2017).