Excerpt Reveal: COWBOY UP by Harper Sloan
New York Times
and
USA Today
bestselling author Harper Sloan returns with a passionate and breathless romance about the sparks that ignite when a cautious cowboy and a once-scorned woman open up to each other in the third installment of the Coming Home series.
As the eldest Davis, Clayton has always tried to lead by example. He takes his job as head of the family businesses seriously, making sure the farm and auto shop are running smoothly—along with keeping an eye on his brother and sister. For him, there's a time and place to let go of the control he holds with an iron grip. And with the way he grew up, coupled with a disastrous end to his last relationship, he's just fine with his quiet, solitary life.
Most
of the time.
What he hadn't counted on was the cute, quirky, shy bookstore owner, Caroline Michaels. She's the proverbial woman next door—well, the next town over, that is. Caroline hasn't lived an easy life, but after escaping a verbally abusive ex, she's finally living it for herself. The last thing she ever expected was a one-night stand with Clay Davis she can't stop thinking about.
So when she falls on hard times and Clay comes out of nowhere to her rescue, she realizes just how impossible it'll be to stay away from him. Now all she has to do is convince him to live a little…. Will Clay be able to give up the reins and finally settle down? And, more importantly, will Caroline muster enough courage to lasso him up?
READ AN EXCERPT FROM COWBOY UP
I push my hands from his shoulders and palm his jaw as his stubble prickles against my fingers while my hands wander up to his hair. His hat falls to the ground with a thud and I know he's just as lost in me as I am in him, because he doesn't even make a move to pick it up. He lets out a deep grunt when I mold myself against his body, seeking some sort of friction. The next thing I know, my back is against the door and he's gripping my bottom. His mouth hits my jaw with a bite of his teeth, making a squeak of pleasure shoot up my throat, and his deep rumble of laughter reaches my ears as he presses me harder into the door with his hips. The heavy bulge of his erection against that spot makes me so desperate for him that I whimper in relief when his mouth
finally
closes over mine in a wet tangle of tongues.
I've never been kissed so thoroughly.
This is the kind of kiss that sets the bar for any that might follow.
The kind that shows you everything you've been missing and everything you never knew you wanted. I'm going to be comparing every kiss I ever have to my dark cowboy's, even though I know there's a good chance no one will ever compare. The sounds coming from my mouth, the ones being swallowed by his, are nothing short of needy. My hips move in tandem with the thrusts of his, and even though we're both fully clothed, I know it won't take much more of this for me to go off like the town's fireworks on the Fourth of July.
"Fuck, you taste just like apple pie," he whispers against my lips, breaking away with a gasp.
"Goddamn, I love apple pie," he says before his mouth is back on mine, this time with a whole new kind of hunger deepening his kisses.
I'm held captive, enraptured. Then his hands move from my bottom to glide up my torso. He lifts his hard chest off mine and suddenly those delicious fingers are at my breasts. Even if I had big boobs his hands would dwarf them, I'm sure, but as it is he covers both with a firm grasp before adjusting his hold with a deft twist of the wrists. His mouth continues to feast on mine while his huge hands learn my body with slow movements. I tear my mouth from his with a breathy moan when he pushes my shirt up and slips his fingers into the cups of my bra to tweak my nipples.
"Oh, God," I moan when he does it again.
"I can't get enough of you," he rumbles.
"Please," I beg, not with the slightest clue as to what I'm begging for.
His hips dig even harder into mine as he leans back, supporting me against the door with that connection alone as he pulls my shirt off. The darkness makes me feel more confident than I normally would be, almost half naked with a man—no, a stranger.
"Yours too," I tell him as his fingers move to unclasp my bra. "I want to feel your skin on mine," I breathe, taking over the task so he'll hopefully give me what I want.
I fumble in my haste to feel more of this dangerous arousal he's creating in my body, but the second my bra is free and dangling toward the floor, his naked chest collides against mine, pushing me into the door with a force that sends the air rushing out of my lungs.
His mouth hits my collarbone at the same time his hands grasp my bottom, sliding me up the door until I feel the wet heat of his breath against my breast.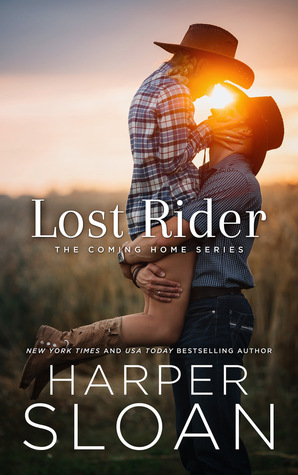 Maverick Austin Davis is forced to return home after a ten-year career as a rodeo star. After one too many head injuries, he's off the circuit and in the horse farming business, something he's never taken much of a shine to, but now that it's his late father's legacy, familial duty calls. How will Maverick find his way after the only dream he ever had for himself is over?
Enter Leighton Elizabeth James, an ugly duckling turned beauty from Maverick's childhood—his younger sister's best friend, to be exact, and someone whose heart he stomped all over when she confessed her crush to him ten years back. Now Leighton is back in Maverick's life, no longer the insecure, love-stricken teen—and Maverick can't help but take notice. Sparks fly between them, but will Leighton be able to open her heart to the one man who broke it all those years ago?
In this second of the sultry, Western-set Coming Home series from New York Times bestselling author Harper Sloan, Quinn Davis might finally have a shot at her own happily-ever-after—but will she let love in, or will she tell it to go ahead and kiss her boots?

Quinn Davis prefers to live her life quietly. She's the stereotypical tomboy with two overprotective big brothers who have always been there to protect her, especially from devilishly handsome cowboys with silver tongues. That is, until Tate Montgomery comes riding into town. Their first meeting, however, is far from something out of a fairy tale and only further convinces Quinn that men aren't worth her time.

The only place Tate Montgomery ever truly felt at home growing up was during the long, sweltering summer months he spent at his Gram and Paw's farm in Pine Oak, Texas. Now, Tate has returned to his childhood sanctuary seeking a fresh start—but if he's being entirely honest, he's not just back for the wranglers and Stetsons. During those summers, Quinn was a friend-turned-young-love who Tate lost when life threw him a curveball and he cut all ties to his past; but all it takes is one glance at the raven-haired beauty he did his best to forget for him to realize just how much he's been missing….
Harper is a NEW YORK TIMES, WALL STREET JOURNAL and USA TODAY bestselling author residing in Georgia with her husband and three daughters. She has a borderline unhealthy obsession with books, hibachi, tattoos and Game of Thrones. When she isn't writing you can almost always find her with a book in hand.