Exclusive Excerpt: BEFORE by Anna Todd (After Series)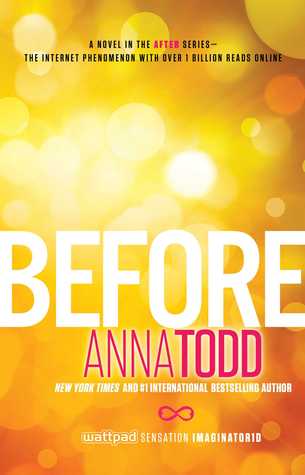 Book Five of the After series—Anna Todd's Wattpad fanfiction that racked up 1 billion reads online and captivated romance readers across the globe! Before explores Hardin Scott's life before Tessa, reveals what happens after After, and gives new insights on their turbulent #Hessa romance.

Cosmopolitan called Anna Todd "the biggest literary phenom of her generation." That's Normal declared Hardin and Tessa "The Mr. Darcy and Lizzy Bennet of our time." Revel in the awesome, messy power of true love.

BEFORE Hardin met Tessa he was a raging storm. DURING those first moments they met, he realized he needed to keep her for himself—his life depended on it. AFTER they got together, the world would never be the same.

Hardin and Tessa's dramatic love affair became a vortex pulling in everyone around them. For the first time these others are given voice as they appear before, during, and after the events in original After novels. Alongside them, Hardin's account of his first encounters with Tessa—which will change what you thought you knew about the brooding boy and the angel who loved him.
The morning is here, and I barely fucking slept last night. It wasn't
even the shitty nightmares that kept me awake; it was Tessa.
She was there when I closed my eyes, and not in the way I'd
have liked her to be. Instead of being naked, making soft noises as
I thrust into her, she was furious and bored during the trip to the
stream I've decided we're taking. In one creepy movielike scene
that my sleepless, stalkerish mind made up, she stubbed her toe
and complained the entire afternoon. In another, she was bored
out of her mind and wanted her lame boyfriend to drive all the
way to campus to get her. When he arrived, it was like he was all
cardigan. A giant cardigan monster that was both scary and lame.
It's frustrating the amount of time I've wasted thinking
about this girl. None of this is going to matter in a month or so.
If this "date" goes well, I'm hoping to win the Bet in less than
two weeks . . . Hell, if I can charm her enough, maybe at the
My phone alarm rings from across the room, and I climb out
Today's the day. My head is already throbbing, and I'm annoyed
by the pressure I feel to make the time I spend with her
work in my favor. I should probably take a shower. As I'm getting
dressed, I briefly wonder what she's doing right now . . . is she as
stressed as I am? I can imagine so; she's so uptight all the time,
and she's probably had me literally penciled into her planner-binder
since the moment I offered to attempt this friendship
BEFORE will out December 8th make sure to pre-order!!