Review: MAYBE NOT by Colleen Hoover
Review by Amber
MAYBE NOT is a companion Novella that goes along with the novel MAYBE SOMEDAY by Colleen Hoover. You can read my review of MAYBE SOMEDAY by clicking
here
. I don't think reading one before the other ruins much, but it's definitely better read in order. That said, if you've not read MAYBE SOMEDAY you can buy it
here
, and while you're at it, you can pick up MAYBE NOT
here
.
Basically when I found out that Colleen was releasing this novella I was like "THIS IS TOO MUCH. I AM GOING TO DIE." but, I in fact, did not die and am here to tell you that you won't either... but you might feel like you're going to from excitement because if you've read anything Colleen Hoover, you know that she writes pure gold that both pulls at your heart strings and makes you laugh out loud. So loud in fact, that people stare at you funny in public places.... I mean, what?
So, MAYBE NOT is the sweet, sassy, hilarious story of Warren and Bridgette. Spoiler Alert: Bridgette is still kind of an asshole... and Warren is still kind of a jerk off.... but in a weirdly, cuddly, awesome way. Basically, they're made for each other. I mean, you already knew that if you've read MAYBE SOMEDAY, but I just like to reiterate facts, apparently.
We find out some things that maybe we didn't know when we were reading MAYBE SOMEDAY, and we find out what makes Bridgette tick. I was already pretty in love with the fact that she didn't try to please people and that she was perfectly pissed off all of the time. Now, I love her because she's real and raw and has lived - and has a perfectly good reason for being perfectly pissed off.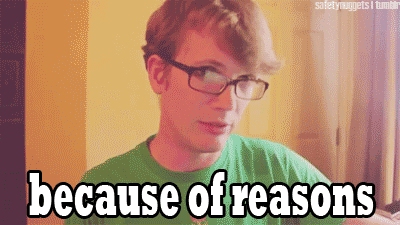 I kinda loved Warren by the end of MAYBE SOMEDAY because he was hilarious and he was a great friend and he made me giggle like a child. I really love him now after seeing that he's also a great lover... which brings me to the sex.
I think Colleen really out did herself on the sex scenes. I'm just saying. DAAAANG SON. They were so hot. So, if you're weird about sex scenes, probably not gonna recommend that you read this...but if you really like hot dudes and hot sexy stuff (not erotica, but.. just.. sexy) then you should definitely read this.
So, just like any of Colleen Hoover's books - I absolutely adored MAYBE NOT, and once I got time to sit down and read it, I absolutely devoured it. Great addition to MAYBE SOMEDAY and I really hope they print it because of reasons. (hint atria hint)
ENJOY!