Guest Post: Ces Guerra: Gumbo for the Tiger Soul
An LSU Fan Celebration
As many of my long time readers know, I'm a huge LSU fan, not just football - just in general (but definitely football, too). LSU (Louisiana State University, for all you non SEC/non US readers) is kinda just in my blood. Louisiana is one of the best places on the face of this big wide world, and LSU is very much a part of that. Baton Rouge is a magical place. The atmosphere, the people, the food... it's all amazing. So, I was pretty thrilled when I got the chance to work with the author of GUMBO FOR THE TIGER SOUL, Ces Guerra. I've got a cool little guest post from him regarding his new book, and look for a review to come soon.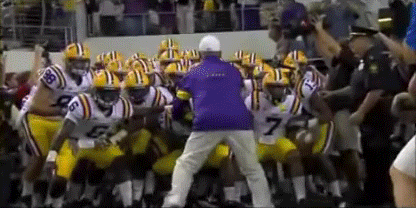 I know, it's a little different from our normal "thing" but when I can get involved with books about something I love:
I. Am. So. In.
Enjoy!
Gumbo for the Tiger Soul (GFTS) is a celebration of all the good things we remember about going to LSU football games.
GFTS is a 50 year retrospective journey into some of the great and not so great moments for the Tigers. And, each chapter ends with a terrific Cajun recipe!! Yum!! The vision of this book goes back almost three years now. My dream was to capture the essence of some of those big games we all remember from different perspectives.
When one of my dear LSU friends, Kathy Tangney, passed away in July of 2012 it occurred to me that we were brought together by our love for LSU and some of our best memories were made watching the Tigers. I realized that this entire fan experience was more than just about the football game and that's what I set out to capture. I interviewed and collected stories from many LSU friends, former football players, band members and LSU staff. What I was able to capture was clearly a Gumbo of memories that was about more than the football game.
One of my friends, Jack Burleigh, recalled attending the Notre Dame game with his father in 1970. He recalled that it was so cold, "I thought my blood was going to freeze." LSU staffer, Cliff Vanoy, attending the LSU v Auburn game in 1988 aka The Earthquake game recalled, "I thought my wife would deliver our baby in the stadium that night." There are so many more interesting stories like that along with "Hold That Tiger, Red Beans and Rice", "Louisiana Road Kill Stew", Touchdown LSU!! Chicken and Sausage Jambalaya and more, more, more!!
To order your copy of Gumbo for the Tiger Soul visit AuthorHouse.com or ask your local bookstore to order it for you!
Geaux Tigers Always!
GFTS is being sold in three* physical locations now
*LSU Bookstore (Will receive shipment on 8/20)