Meet Grownupfangirl's Affiliate Blog: Bookcrastinators!
So, I'm a terrible blog affiliate and friend! Those of you who frequent the blog often have probably noticed that there's a newish button over there (look to your right.) that says "affiliate blog: Bookcrastinators" and that's great, I'm HAPPY they're there and that they've been there for a little while, but I'm terrible for not introducing you guys sooner! So, I'm gonna take this time to let you guys get to know one of this blog's dearest friends, closest allies, and all around great group of grownupfangirls!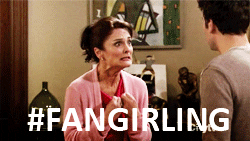 1. Describe yourself in five sentences or less.
Betsy -
Betsy is a Cuban Opera singer in her twenties (seriously.. it's not a joke). When she isn't singing, reading or traveling you can find her cooking, baking, laughing, playing with her crazy Pekingese Luna or painting her nails.
Melody -

I'm a twenty something lover of everything books. So much that I'm an aspiring author writing books of my own. When I'm not writing or reading in my lair, I can be found at the shooting range, shopping for nailpolish, riding bike and listening to Adele songs.
2. What's your fave book/books/book series?
Betsy - It's like Sophie's choice, I choose the Fever Series by Karen Marie Moning, Harry Potter series by J.K Rowling and The Alchemist by Paolo Coehlo
Melody - I hate this question! It's so hard! The Fever Series by Karen Marie Moning, The Infernal Devices by Cassandra Clare and almost everything by Kristen Ashley!
3. What would I be surprised to find in your refrigerator or pantry right this second?
Betsy - Chinese cooking spices.
Melody - A lot of guacamole.
4. how bout your bookshelf? any surprises there?
Betsy - The Secret Garden and A Little Princess by Frances Hodgson Burnett
Melody - I collect very old books. My pride and joy being my 1905 copy of A tale of two cities by Charles Dickens
5. Tell us a little about your blog!
We're two book loving best friends from Miami that put off daily tasks in order to read (#priorities). Which is how we came up with the idea behind Bookcrastinators in Wonderland.
6. Fictional boyfriends?... girlfriends?
Betsy- First of all, how dare you? All Kristen Ashley hotties, Jericho Barrons and Bones.
Melody- I think mine is somewhere around the number of infinity but definitely top favorites are:
Tack and Joe Callahan (Motorcycle Man and At Peace by Kristen Ashley), Bones and Jericho Barrons.
7. Currently reading?
Betsy - The Return by Jennifer L. Armentrout
Melody - Black Ice by Becca Fitzpatrick
8. Have any crazy fangirl stories?
Well our BEA trip was pretty crazy and it included A LOT of fangirling.
9. Speaking of, favorite thing about being a fangirl?
Meeting fellow book lovers and bloggers! Also, meeting the masterminds behind our favorite books!
So, you can probably see why I dig them so much after reading a little bit about them and I do hope you'll take some time to check them out and say hi! Most importantly:
follow. all. of. the. links.
Look for lots more to come from our affiliate blog!
Interested in becoming an affiliate or having your blog spotlighted? Email me here.