Review: My Life Next Door
'My Life Next Door' by Huntley Fitzpatrick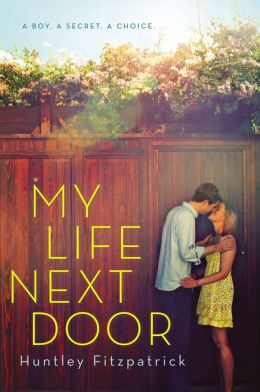 This is one the best contemporary YA books I've ever read. The story follows Samantha, the daughter of a newish Senator who raised both Sam and her sister alone when their dad skipped out. They live in the lap of luxury, thanks to her mom's trust fund. Constantly adding additions to the house and refurnishing the rooms already there. Sam's life is full of lifeguarding, studying, and having dinner at the country club every week. But Sam's life is also full of the next door neighbors, the Garrett's - who live nothing like she does. A family full of several kids (seriously, too many for me to remember them all) all with hectic schedules live right next door to Sam, and she watches them (totally creeper style) nearly daily..until one day Jase Garrett comes right up to her window and starts a conversation with her. Sam never could've imagined the kind of luxury she was missing out on until she pretty much becomes one of the Garrett's.
I quickly fell in love with the Garrett's and their crazy lifestyle, probably because I can relate to the table that isn't really for eating - more for storing junk, and to the car with Gatorade bottles floating on the floorboards. Jase Garrett is the epitome of boy next door. He's sweet, he's handsome (swooooon), he's athletic, and he cares about his family. Sam is not your typical rich girl though. She works two jobs (mom likes her to stay busy) and she is honestly a sweet soul. She doesn't bad mouth people and really just wants to help in most situations. So really, they're perfect for each other.
This book covers a lot of the tough stuff. We see Sam, struggling not to miss her mom, while she's dating a new man, all while she's missing her older sister who's heading out to college. We see Jase, struggling to get to college, working several jobs, and taking care of his family any way he can. We see Tim, a friend, who's into some heavy stuff, and trying to get clean. We see love, loss, betrayal, and ultimately, the good that comes out of coming clean and choosing love first. For that, Huntley Fitzpatrick should be applauded. I highly recommend this book to anyone looking for a dose of reality in their fiction, or just for something a little easier to believe than "star quarterback starts dating nerdiest girl in school" type books. Kudos Huntley Fitzpatrick, Kudos... and thank you for writing such a beautiful story. I can't wait to read the next one.
Buy it most places books are sold, and let us know how much you liked it!